Spot Scheduling
In this part of the design guide, we will dive into zingfit's Spot Scheduling and how you can utilize it to enhance your branded experience. To begin there are two different types of spot scheduling integrations available on the zingfit platform.
Designed and built around speed and convenience. The Spot Tool allows you to adjust your spot layouts & design in real time, making on the fly changes to how your room is setup. There will be no need to send in web dev change requests or contact zingfit to make adjustments to your room. However the Spot Tool's ease-of-use is not without caveats. In its current iteration, the spot tool can only handle one type of spot image. So if you have treadmills and bags in the same room, they will need to use the same spot image.
Requirements
By default, Spot Tool will be enabled for all new rooms. The Spot Tool does not require assets, but has the option to upload if you have them.
Spot Tool Configuration
Custom Spot Scheduling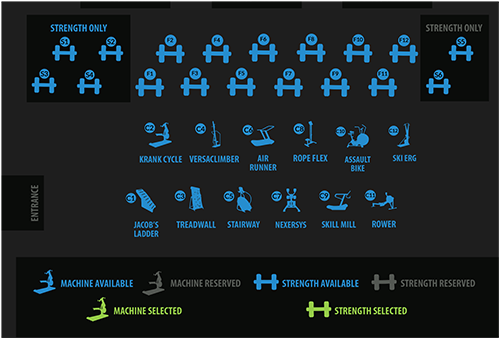 Custom Spot Rooms are hand-built by a zingfit developer, able to customize the room in anyway you want (within reason, no JavaScript dragons or jQuery gnomes). You can use a number of icons, color schemes and layouts. Your design will be matched as closely as possible without sacrificing the stability of the platform. However, as with the spot tool, this option has caveats. Once the design is finished, approved and pushed out, any changes or adjustments to the room will require a web dev change request. While the process can take up to 3-5 days to process and complete, it will not be instant and can take time to complete given the scope and scale of your changes.
Requirements
In order to provide the custom branded experience through custom spot scheduling; there will be some required assets that need to be submitted to zingfit. Please follow the navigation link below in order to see a breakdown of what those assets are.
Custom Spot Setup